Quicargo entering hypergrowth with 240% growth in turnover in Q1 2020
European digital freight network reports best quarter ever as shippers are looking more and more for digital solutions that put the shipper in control of their shipments.
April 8th, 2020 – The first quarter of 2020 was marked with the beginning of the COVID-19 outbreak. Carriers experience an instant drop in  the number of shipments, whilst shippers are more careful with placing orders. During these challenging times, both parties are looking for solutions. Transportation company Quicargo offers them remedy. The digital platform provides carriers with an opportunity for more shipments and extra revenue and, at the same time,  shippers are able to benefit from more security that each shipment will be properly executed. This creates a win-win situation, which has led to more carriers joining the freight network, as well as more shippers starting to ship their daily lanes with Quicargo.
More and more carriers have to reduce the size of their truck fleets or part ways with charters in order to cope with lower and less predictable demand, whilst Quicargo is actually expanding rapidly its carrier network. By doing so, the scale-up is able to offer flexible solutions for every transport need.
"Carriers are able to benefit every day from extra pallet shipments to optimise their loading rates. At the same time, shippers will have a guaranteed solution for all of their shipment needs as Quicargo has a strong network with more than 300 partner carriers"
Sam Houwen (CCO)
The perfect platform to put the transport planner in control
Transport planners want to be in control of their shipments, especially in times of decreasing predictability in transport planning. Quicargo provides transparency in shipment processing by fully digitising the customer journey from order entry up to following the shipments and invoicing. Everything is online and cloud-based which makes the platform very suitable for working remotely.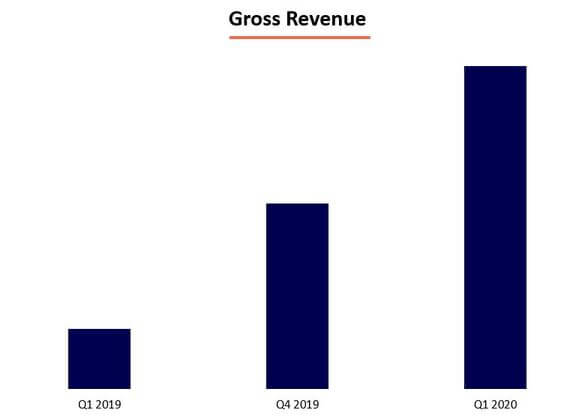 1st quarter year on year - facts & numbers
240% growth in gross revenue (1st quarter 2020 vs 1st quarter 2019)

Unique visitors at

quicargo

more than tripled (1st quarter 2020 vs 1st quarter 2019)
Approximately 1000 active shippers in Q1 2020
Average Trustpilot score of 4.4 out of 5 in Q1 2020.
Almost 70% of the shipments were automatically matched to a carrier in March 2020
Quicargo, a digital freight network serving both shippers and carriers, has seen an increase in gross revenue of  240% when comparing the 1st quarter of 2020 to the similar quarter in 2019. The targets were set high, and so were the results.
The arrival of the Coronavirus in Europe undoubtedly affected the number of transactions from several frequent shippers. Nonetheless, by increasing the number of active shippers – reaching a record of over 550 in March -, Quicargo was able to find opportunities for exponential growth.
Last but not least, it is worth mentioning that at the end of March 2020, Quicargo broke its historical record for the number of transactions on one single day.
Even though Quicargo is growing exponentially, the logistics company emphasizes that safe working conditions are of the utmost importance.
Employees have been asked to work from home. All the operations adhere to government regulations and advice. Quicargo expects the same from its partners.
The digital freight network has released a COVID-19 statement on its website to keep everyone involved with Quicargo up-to-date about the possible impact of the outbreak on daily operations.