Forklift transport for shipping pallets in the Netherlands and Europe
Forklift shipping is easily booked via Quicargo. Our great network of carriers is ready for your shipments!
Do you want to ship pallets with deviating dimensions? If your pallets are larger than 240 centimeters, then you will need a mounted forklift to load and unload your freight.
Is there no forklift available at the pick-up or delivery location? In that case you will also need a truck with a mounted forklift. Luckily, with Quicargo it is very easy for you to add the extra option to your shipment.
Companies such as Knauf, Level Logistics and Tasmania are already doing it. Are you next?
How does mounted forklift transport work?
Requesting shipping with mounted forklift is extremely easy with Quicargo. You will not have to fill out complicated forms. No ambiguous costs. Instead, you can simply select the option within the platform and it will show you an immediate price. Exactly how it is supposed to work!
Create a free account on our digital portal. Whilst filling out the information of your shipment (address, type of pallets, etc.) you will also see an easy-to-spot option to add a mounted forklift to your order. Select the option, and we will match your shipment with an appropriate carrier. It is that easy!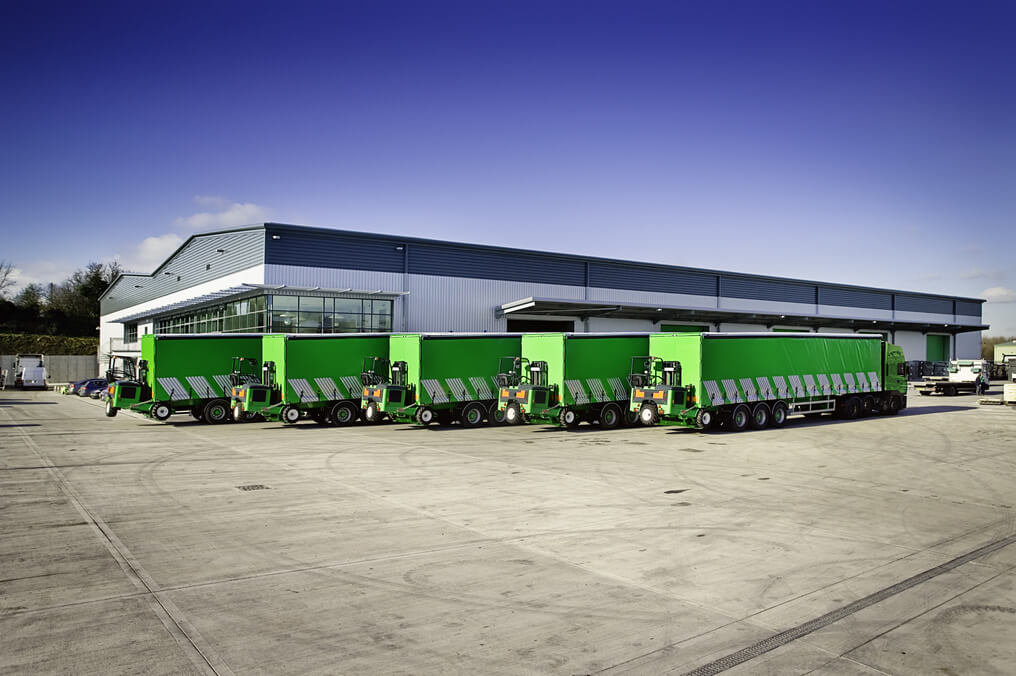 Destinations and examples of forklift shipping cost
Mounted forklift in The Netherlands
Are you looking for freight carriers with mounted forklift to send pallets in the Netherlands? Quicargo is your specialist for road transport in the Benelux.
Below, you can already check some examples of routes with 3,2 loading meters of freight:
Mounted forklift shipping Belgium
Do you require a mounted forklift for your pallet shipments in Belgium?
Below you will find a couple of examples with selected routes and the accompanying prices for 3,2 loading meters of freight. Be aware that these costs serve merely as an indication and can slightly vary from the final prices on our platform.
| Pick-up Address | Delivery Address | Price |
| --- | --- | --- |
| Antwerp | Brussels | € 286,- |
| Ghent | Charleroi | € 314,- |
| Liège | Bruges | € 338,- |
| Rotterdam | Antwerp | € 286,55 |
| Antwerp | Amsterdam | € 283,40 |
*These are the prices for 3 ,2 loading meters. Last update 05-01-2021
International mounted forklift transport in Europe
You can also select the option for a mounted forklift for your international freight. Currently, via spot transportation this is only possible for import and export to the Netherlands. For other lanes, you can request a quote.
In the table below, we show you a couple examples of international lanes with their respective spot prices for 3,2 loading meters of merchandise (8 europallets).
| Pick-up Address | Delivery Address | Price |
| --- | --- | --- |
| Eindhoven | Berlin, Germany | € 537,- |
| Copenhagen, Denmark | Venlo | € 589,- |
| Arnhem | London, UK | € 689,- |
| Montpellier, France | Breda | € 1174,- |
| Bari, Italy | Rotterdam | € 1374,30 |
*These are the prices for 3,2 loading meters. Last update 05-01-2021
Spot transport with mounted forklift
Do you want to order a spot shipment with mounted forklift? Quicargo offers the right solution. Be aware that we do charge a supplement of €65,-.
Do you have more than 10 shipments per month? Take advantage of our year-contracts which can save you up to 20% in transport costs.
These clients already used this service in 2021
What is a mounted forklift?
A mounted forklift is a lift truck which can be attached to a trailer. It is mainly used for shipments where there is no standard forklift available at the pick-up and/or delivery address. Additionally, the mounted forklift is often used to load and unload pallets which are longer than 240 centimeters long.
How much do you charge for to add a mounted forklift?
Quicargo charges a fixed €65,- for mounted forklift transport
Why would I select mounted forklift over a tailgate?
A tailgate is not always ideal to load and unload freight when there is a lack of professional facilities such as loading docks. The use of a mounted forklift provides more flexibility.
How do I calculate the loading meters of pallets with deviating dimensions?
Use our loading meter calculator to get a quick answer!
Spot prices or fixed prices
A flexible solution for direct or urgent shipping.
✓ Fast and simple
✓ Better service, lower costs
✓ Place a shipment within 1 minute
For 10+ pallet shipments per month, requesting a quote is more advantageous
✓ Fixed rates for the whole year
Save up to an additional 20%
✓ Dedicated contact person
Enjoy extra service and smooth communication
✓ IT integration
Work and handle shipments within your own system
Want to learn more about Quicargo? Schedule a free demo with our team!